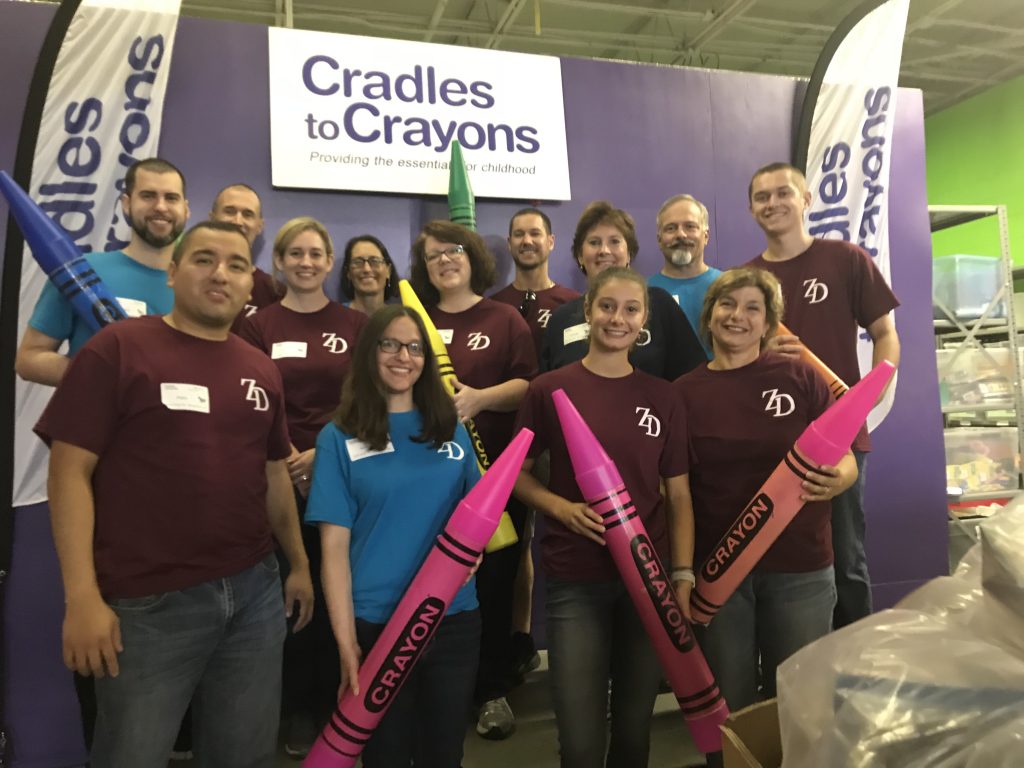 On a Friday in July ZD offices were closed, employees put up their "out of office" and volunteered for the day at Cradles to Crayons. Cradles to Crayons is an organization which fights the battle of childhood poverty and provides kids with the essentials they need, free of charge. Employees not only donated their time, but also various items such as clothing, books, baby products, and school supplies to support the cause.
Can we help answer any questions about our services?
It's no secret in the accounting world that certain times of year can be a bit "taxing" with longer hours and lots of work to keep us busy. In the summer months, our schedules become a little more flexible. Between vacations, beach days, and continuing to meet our clients' deadlines, we realize it's also important to find time to give back to the community we live and work in.
On August 20, 2015 we put down our calculators, turned on our "Out-of-Office" responses, and headed into Philadelphia to volunteer at Philabundance for the day. There are always different jobs to be done at Philabundance, whether it's packing cereal, working in the freezer, or writing thank-you notes to their generous donors. Not knowing what kind of job we'd be tasked with, it turned out to be pretty fitting for us accountants. We spent about three hours in the warehouse where we weighed out and packaged up almost 350 pounds of rice. Although we prefer counting beans, rice was just the perfect substitute that day!
Thank you, Philabundance, for having us!
Can we help answer any questions about our services?
Instead of spending our summer volunteer day helping at our usual spot, Philabundance, but still in the interest of food, we thought we should take some time to reach another local foundation in constant need of volunteers. Having knowledge of various charities in our community, one of our Associates suggested we contact the Ronald McDonald House of Southern New Jersey.
We reached out to the Ronald McDonald House of Southern New Jersey to set up a volunteer day for the coming summer. Our call was gladly received, and we learned that each year, the Ronald McDonald House of SNJ provides a home for over 800 families with seriously ill or injured children. At any given point there may be up to 20 families, from various locations within and outside of the United States, residing in the family suites at the house while children receive medical treatments at one of the Philadelphia hospitals. The Ronald McDonald House enlists the help of volunteers on a daily basis in order to provide home-cooked meals for all of the families residing in the suites. We arranged to cook during the "Dinner" time slot on July 31, 2014 and got planning.
When brainstorming meals and confirming we would have access to a grill, it was a hands-down decision; what better for a summer night than some BBQ (optional, of course) chicken? Luckily, there are a few Grill Masters in the group, and they did a great job preparing our main course. The rest of the crew got to work in the kitchen. The bright and cheery atmosphere was perfect for a team of accountants-turned-cooks and -bakers to showcase some of our "other" skills! The best part about the day was having the opportunity to meet some of the families we had cooked for—which was truly a rewarding experience.
Can we help answer any questions about our services?
In August, the crew from Zook Dinon pitched in and volunteered at Philabundance's Hunger Relief Center, sorting and packing food as well as transporting food donations collected at our Moorestown office.
Pre-sorting photo op in the parking lot
Andrea and Trish are READY TO WORK!
Anthony can load a pallet with the best of them…
Andrea and Amanda inspect and sort bread to be distributed throughout the Delaware Valley
Luanne with a full container ready to go
Let's visit the frozen foods section….
Dave, Matt and Sam inspect donations to make sure they are properly sorted by dietary restriction.
About Philabundance:
Philabundance reduces hunger and food insecurity in the Delaware Valley by providing food access to people in need in partnership with organizations and individuals. Philabundance provides a full plate of services through direct service programs and a network of close to 500 member agencies in 9 counties. Philabundance serves approximately 65,000 people per week at a cost of 50 cents per meal. There are more than 900,000 people in the Delaware Valley who are at risk for chronic hunger and malnutrition. In 2011, Philabundance distributed 21 million pounds of food. For more information about Philabundance, visit www.philabundance.org or call 215-339-0900. Visit us on Facebook, Facebook.com/Philabundance and follow us on Twitter, Twitter.com/Philabundance. If you or someone you know is in need of food assistance, please call Philabundance's Food Help Line, 800-319-Food (3663).
Can we help answer any questions about our services?